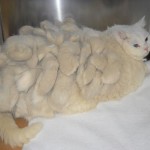 Dogs are adorable creatures. They're great to have around, especially when you are outdoors and you see them in all their uninhibited happiness. There is just something so innocent and child-like about all dogs, and owning one can be a really effective stress-buster. Naturally, if you own your dogs, no matter how adorable they are, you know that there are challenges to taking care of them.
No matter how much you want them to always look picture-perfect; you will always encounter one problem: matted hair. It cannot be helped, dogs are naturally playful beings. They will roll around on the floor, and they will pick-up dirt along the way. If your dogs are extra furry (because the furrier, the cuter!), you will soon find out that all this boundless activity will lead to horribly tangled, matted fur. When it's time for your regular grooming, you'll both have a hard time detangling all these matted fur.
Since matted fur is something that you cannot avoid, the next best thing is to know how to address these concerns. It's really simple if you know how. First, you have to equip yourself with the proper tools. You need to have an arsenal of deshedders, clipper blades, combs, brushes and grooming scissors. You need these to go through all the matted fur, and to maintain its health once you are done detangling your poor dog's fur.
Once you have everything ready, you can use a pair of clipper blades with skip teeth to clear the worst of the matted fur. But don't just attack the fur head-on. Remember, your dog needs some tender loving care first. Make sure your dog is in a comfortable position on your lap. Dogs love to snuggle so that should not be a problem. Next, gently stroke their fur. Make them used to the sensation of having someone go over their fur. Start introducing a fine-toothed comb into your stroking. Start in one area, and try to detangle the loosely-knotted fur first. Do everything gently so your dog won't get annoyed. If your dog has thicker fur, use a brush instead. This will cover a wider area, thereby clearing up matted fur quickly. If there are stubborn knots, take your clipper blades with skip teeth and carefully trim the matted fur away. Try to stay as close to the snag as possible so you're dog's fur won't look unkempt. If you need sharper deshedders or trimmers, you may use a pair of grooming scissors. Repeat the procedure until you are done.
This may seem easy theoretically, but in practice, you have take into consideration that your dog will get impatient after a couple of minutes without doing anything. That's why it is important that you have someone help you with this, especially when you are using your clipping scissors. You don't want to accidentally wound your dog if he suddenly stands up.
To make it easier for you, you have to ensure that your blades are well-sharpened. This will give your trims a clean cut, so you can do things easier and quicker. For clipper sharpening services, you may visit your nearest pet shop. You can request a professional to do your clipper blade sharpening. This is very important, as well as scissor sharpening, because it makes it a lot easier to snip and trim your dog's fur if you are working with sharp blades.
Within these pet shops, you can also find scissor sharpening tools, in case you want to do things in your own time. Just make sure that you consult with experts first, and that you are familiar with the tool before you use it yourself.
Of course, if you are ready to trim your dog's fur, you have to be careful. Make sure there are very little objects that can suddenly distract your dog. You don't want him jumping up out of the blue, because he heard or saw something pass by. Sometimes, it's even better to wait for your dog to fall asleep, so you won't have to worry about any of these untoward incidents. Just keep stroking until he falls asleep, and you won't have a problem anymore.
Dealing with your dog's matted fur shouldn't be a problem (How Often Should I Groom My Dog / Cat?? Please read here) . All you need is a lot of patience, and you always have to remember to do things gently, so your dogs won't be afraid whenever it's time to clean up their matted fur.